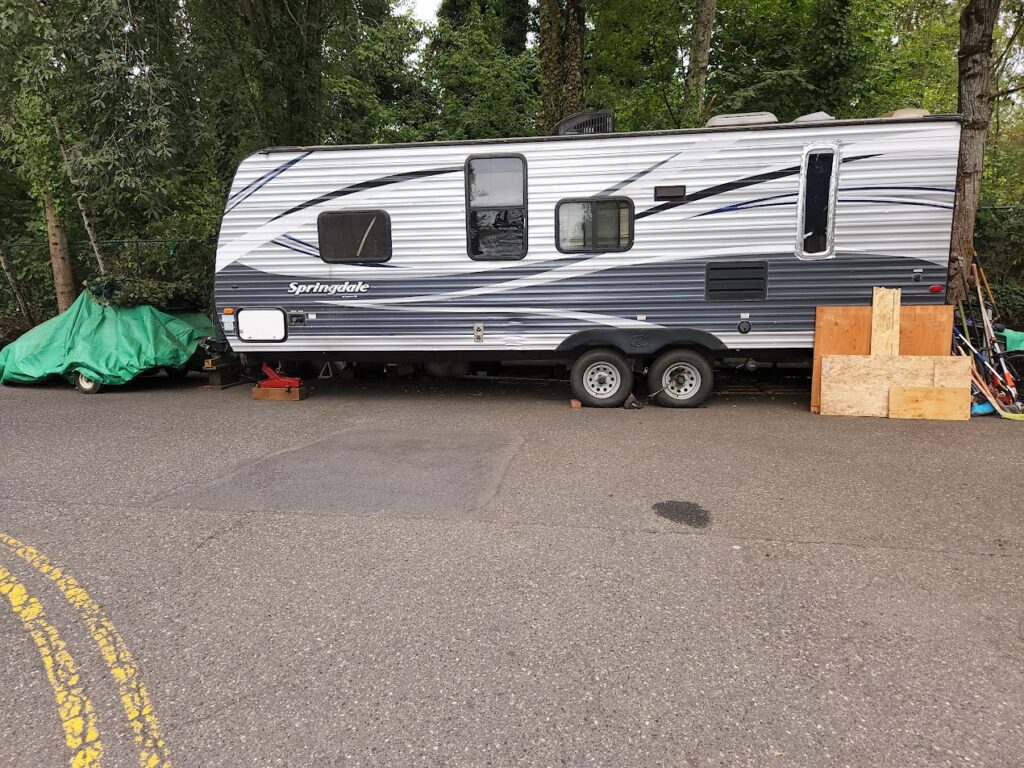 Call 2-1-1 and pretend you need help.
2-1-1 is the number to call if you are homeless. (3-1-1 to report a campsite).
At least, that is what I was told by a City Commissioner staff member whom I met at a recent campaign event.
When I doubted how effective dialing 2-1-1 could be, he reiterated that it was working great and that there is plenty of money to help. That was encouraging.
That conversation weighed heavily on my mind for several days, prompted by the frequent interactions I have had recently with the trailer dwellers who live around the corner from my house. They have been there since August, at the entrance to a natural space. I guess they have claimed it for themselves. I have had long conversations with them over the past weeks. Others neighborhs have, too. They aren't interested in moving. So frustrating, espeically for the people who look at their window every day to see it.
So, while walking my dog past them yet again, I decided to call 2-1-1 to ask for help, pretending that it was me living in a trailer on a sidewalk.
The call was infuriating for two reasons:
1). As a homeless person, there was NO help.
2). As a taxpayer who has contributed significantly to the homeless housing fund, there was NO help.
The Trailer Dwellers
Here's a litte back story. Troy is 64. Says he used to live in Southern Cal and work in the aeronautics industry. Grew up in a nice neighborhood, he says, just like mine. He wouldn't tell me how he went off the rails, but he did admit that he lives on $908-month disability payments, augments his income by selling scrap, and says he can't be hired anywhere because he is a convicted felon. His toothless smile won't win over many employers, either. His college-educated kids live in LA, but he has no interest in moving by them.
The other trailer mates are Dom and Brandy, in their 20's. Dom recently moved here from Alaska. He is an aspiring tattoo artist who works infrequently in Vancouver. Brady doesn't work but we didn't know why. He said together the three could probably pool about $1,000 a month to put toward rent somewhere.
What can you do with $1,000 a month? I'm thinking maybe that would be enough to park that RV somewhere with power hook-ups and water in a designated space–not on a suburban sidewalk. And then they could stop using the city street drains at will. (Hasn't the Joint Homelessness Taskforce had enough to identify and establish trailer campsites in the area?)
So, I called 2-1-1 looking for help.
Here's how that call went:
2-1-1 starts with a phone tree: Push 1 for Covid vaccines. Push 2 to participate in an automatic call-back service survey in two weeks, (I did it,) Push 3 for Housing information.
Finally, I get to talk to someone. She asks for my zip code. I tell her.
ME: Three of us in this trailer need to find another place to park it. We can come up with $1,000 a month on our own Can you help us out?
2-1-1: Well, I can put you on a list for an apartment but it's a long wait for anything to open up.
ME: I can't wait for an apartment. But I have a trailer.
2-1-1: Umm, yeah, there are some shelters in your area…but I know people don't want to go to them.
ME: Yeah, I don't want a shelter, I want a safe place to park my trailer. Where can I go?
2-1-1: Ahhhh….let me look at the database. Hmmm. Yeah, there's nothing in your zip code. Well, actually nothing in Portland…. oh, but there's a space in Eugene.
Me: Eugene? Why would I care about Eugene. Isn't this a local service?
2-1-1: No, it is a statewide database. But I have a Portland number you can call to see what they have. Do you want the number?
ME: Ok. (Sigh). Hang up.
So, I dial it. 503 823-4375
"You have reached the office of the Bureau of Emergency Management. If this is an emergency, dial 911. Otherwise, leave a message and we will return your call."
Really???? This Bureau focuses on emergency response to things like earthquakes and disasters– hardly a referral number for a homeless trailer dweller. But I left my number on Monday for a call back anyway. (No response.)
It is just painful, this lack of efficiency and accountability.
This is just one more example of why taxpayers and job creators all have one foot out of the door in Portland if they haven't left already.
And into this painful mix the Charter Review Commission has offered up recommendations that will make the existing bureaucracy 100x worse, which is truly terrifying.
The pendulum needs to swing back to the center. Or more taxpayers and job creators will leave this once magical city.