Oregon Wine Industry, 1983-86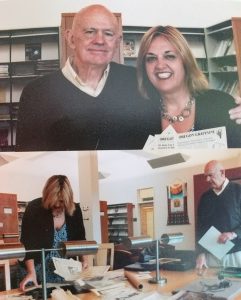 There was a time before the personal computer, cell phones and the Internet.
Business tools were Selectric typewriters, land lines and detailed press kits.
It was the same time when the word "wine" was often followed by "cooler," bulk wines, were typical, White Zin was popular and California Chardonnay was considered special. Most people didn't drink red wine and therefore weren't too worried about the correct way to pronounce "Pinot noir."
My, have times changed.
The infancy of the Oregon wine industry is well documented beginning in the mid-1960's when David Lett, "Papa Pino," began planting premium wine grapes in Dundee, ultimately bottling the now heralded wines of The Eyrie Vineyards. After stunning competitors in a 1979 Paris tasting, and again in Beaune, Lett's achievement brought international recognition to Oregon as a wine region and established Willamette Valley's reputation as the New World home for Pinot noir.
By 1982, the "growing years," the Oregon wine industry counted 33 family-owned wineries and about 90 vineyard owners. Along with the Lett's were families named Campbell, Ponzi, Adelsheim, Sokol-Blosser, Redford, Casteel-Dudley-Webb, Vuylsteke, and in Roseburg, Henry and Sommers,
They organized themselves, establishing the Oregon Winegrowers Association, (the OWA) volunteering as board and committee members, balancing the creation and sales of their vines and wines with raising their own families. The work never ended. Dark humor at the time was: "How do you make a million in the wine business?" Answer: "Invest ten million and wait five years."
Recently graduated from Linfield College, in McMinnville, with several solid media internships under my belt, I had the good fortune to cross paths with Fred Delkin, a principal in the Portland advertising agency of Petzold & Associates. I joined the firm to work on public relations projects.
At the time, Fred had distinguished himself by heading the highly successful State of Oregon tourism promotion account Fred was ahead of his time in many ways. He a passionate foodie, full of fascinating tales, a tremendous copywriter and an ardent fan of fine wines.
By 1983, the OWA needed a permanent address and a neutral advocate to field the ever-increasing calls from wine writers, solicitors, and the general public all wanting to know what was going on with the burgeoning wine industry. Though the monthly budget was modest, our agency was awarded the first OWA management and PR contract, and for several years, I wore two hats—that of PR director for the firm and also executive-secretary for the OWA, with supervision from Fred and the OWA board.
Fred and I were introduced at an annual meeting of winemakers and grape growers at Silver Creek Falls in the fall of 1983. We went to work meeting the OWA members and helping coordinate the association's communications.
We reached out and responded to wine writers, travel writers, purveyors, restaurateurs, political leaders, civic groups and local media. We coordinated wine tasting events statewide, in Seattle and boldly, in San Francisco, working to introduce Oregon wines to influential journalists and decision makers. We built programs that allowed those early participants to share the costs.
When the OWA lobby persuaded state lawmakers to establish a wine and grape tax to fund the Oregon Wine Advisory Board, at last, significant revenues were earmarked for ongoing marketing and research. Because of our experience and familiarity with the wines and winemakers, we were awarded the first OWAB marketing contract. By that time, Fred had established his own firm, The Delkin Company and I joined him there.
Before web sites and power point, slide shows and full-color literature was developed to tell the story of Oregon wines. "Oregon wines…they could only happen here."
Here. In Oregon. Deliberately not bundled under a "Northwest" banner. At the time, many disagreed. Certainly in hindsight, it was the right call.
Tremendous inroads were made in those four years that laid the groundwork for growth and the Oregon wine notoriety that exists today.
In 1984, these 33 wineries were included in the annual, "Discover Oregon Wines & Wineries" pamphlet. One of the OWA's first grassroots efforts. I mailed out thousands of them back in the day. Many continue to thrive. Not all are still around.
Adelsheim Vineyard
Alpine Vineyards
Amity Vineyards
Arterberry Winery
Bjelland Vineyards
Chateau Benoit Winery
Elk Cove Vineyards
Ellendale Vineyards
The Eyrie Vineyards
Forgeron Vineyard
Giradet Wine Cellars
Glen Creek Winery
Henry Winery
Hidden Springs Winery
Hillcrest Vineyard
Hinman Vineyards
Honeywood Winery
Hood River Vineyards
Jonicole Vineyards
Knudsen-Erath Vineyards
Mt. Hood Winery
Chehalem Mountain Winery
Nehalem Bay Wine Co.
Oak Knoll Winery
Ponzi Vineyards
Serendipity Cellars
Shafer Vineyard Cellars
Shallon Winery
Siskiyou Vineyards
Sokol Blosser Winery
Tualatin Vineyards
I left Oregon for career and life opportunities in San Diego in June of 1986. By that time, the number of OWA member wineries had already doubled to 86. Now in 2017, the Oregon Wine Commission counts over 700.
I'm grateful to have seen and contributed first hand to the foundation of the Oregon wine industry so cherished today.
A tip of the glass to those who made it happen! And a toast to Fred Delkin, who passed away in 2014